We are well aware that there are a lot of spades apps available. So full disclosure, the point of this article is to convince you to try at least once our top-notch proposal – VIP Spades.
Not to brag, but VIP Spades is arguably among the best multiplayer platforms for online card games. Sure, it's no secret that you can play one of the most popular card games here. But what other benefits can you expect to get? Why should you download and play VIP Spades? Keep reading to find out about some of the most important features of the VIP Spades app.
1.

Play and host your favorite spades game

Enjoy the classic game of spades with all of the spades modes in one place. Play the most famous version – Spades Pairs, perfect for new users. If you are a fan of solo card games in general, try Spades Solo. Keep in mind that it's not quite like solitaire, but you still be responsible for your own strategy without depending on partners.
Not only that, but VIP Spades also gives you the option to create your personal custom game. You can invite friends to play together or just host a card game online for everyone to enter. When creating a game, you are able to set a lot of options. Here you can choose to play in other spades modes, such as Mirror, Whiz, and Suicide.
Other options are:
min and max score to finish the game
how many rounds are to be played
nil / blind nil preferences
use a custom deck of cards and table background
add jokers to the deck of cards
make the game private so you can choose who to play with
2.

Compete in spades tournaments

There are two types of online spades tournaments available at VIP Spades. Classic Tournament, which has 16 participants, and Quick Tournament, with 8 players. As a result, the knockout tournament stages differ as well. There are two steps in the first scenario, and three in the second. When the competition is completed and only one team remains, that team is crowned tournament champion.

If you've entered a tournament, don't leave the lobby while waiting for a game to begin, since this will indicate that you wish to exit the tournament. You won't be able to return to the same event if you do that.

There are also tournaments around special occasions and dates (mostly holidays related). They are available to an unlimited number of participants and begin on a specific day and time. In this form of competition, the aim is to acquire as many points as possible from the games played.
3.

Start or join a club

Yes, at VIP Spades you can even do that! Gather your peers and start competing for the honor of your club! Or find similar-minded people and join their club.

There are 2 types of clubs: fighting and social. While the fighting club focuses more on the game experience, the social one is generally for chatting and socializing.

Find more in the video below:
Create a club, establish rules, invite people, enjoy your favorite games, gain club experience, and earn coins. Dominate the ranks and build your club's history!
4.

Socialize using the awesome social features

It's a fact that online games can be good for you in terms of your mental wellbeing.

Take advantage of the many social features available at VIP Spades, including:
your custom profile – use a unique profile picture, choose a nickname and put in bio information
create an image gallery with your pictures, share it with others
interact with players during a game – send emojis, fun phrases, and special gifts
like the profiles of other players and send friend requests
after a game, you have the option to assess your partner by giving them a rating
earn additional bonuses for inviting friends via Facebook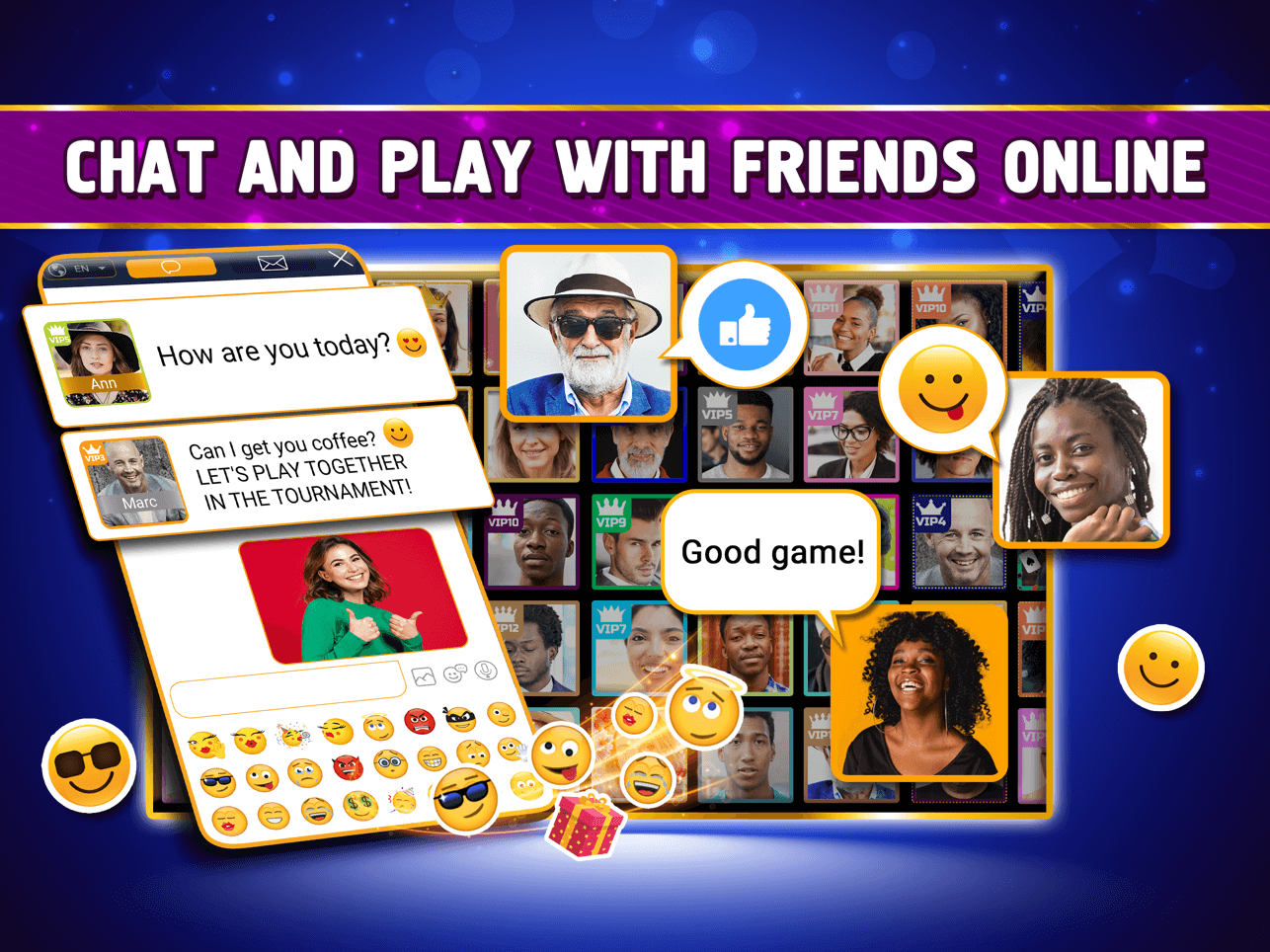 5.

Get more with the VIP status

Have you ever wanted to feel like a VIP? Now you can experience some of the thrills by becoming a VIP member.

You will get even more options:
complete access to the media galleries of other players
ability to send everyone friends requests and private messages
start posts in the public chat, "like" other open threads
real time in-game conversation in the "Play with friends" room
more special offers for extra chips
Enjoy VIP Spades on any device – play directly in your browser or download the game for Androidа> or iOS. You don't have to create multiple accounts. Log in from everywhere and continue your progress.
Play Spades for free with thousands of players from around the world. Experience our online social gaming platform and become one of the best.