Home » VIP Spades Weekly Challenge
VIP Spades Challenge: Gift-Giving Extravaganza!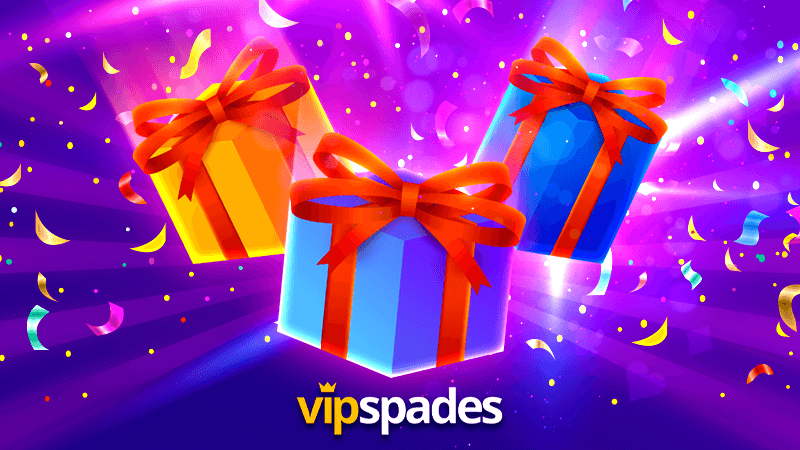 Are you ready to embark on a thrilling adventure within the VIP Spades universe? Get your virtual gift-wrapping skills ready because starting on September 18, 2023, we're launching an exciting new weekly challenge that's bound to get your competitive spirit soaring.
The VIP Spades Weekly Gift-Giving Challenge is your chance to show off your generosity and to win fantastic rewards.
1. The Challenge Details
Dates: September 18, 2023, to September 24, 2023 (Inclusive).
Objective: To send as many gifts as possible to other users. Premium gifts DO NOT count.
Prizes: The top performers in this challenge will be rewarded with valuable chips to enhance their gaming experience.
Announcement of Winners: Winners will be announced on September 25, 2023.
2. How to Participate
Participating in the VIP Spades Weekly Gift-Giving Challenge is as easy as playing your favorite card game. Here's how you can get started:
1. Send Gifts: Show your generosity by sending gifts to your VIP Spades buddies. Each gift you send contributes to your overall score in the challenge. Each gift grants one point.
Important: Premium gifts do not count.
2. Aim for the Top: Your goal is to be among the top three players with the highest gift overall score at the end of the challenge. Aim high and strategize to secure your spot on the leaderboard.
3. Win Fantastic Prizes: If you manage to secure one of the top three positions, you'll be showered with chips, which you can use to enhance your VIP Spades gaming experience:
1st place – 1,500,000 chips
2nd place – 1,000,000 chips
3rd place – 500,000 chips
3. Unwrap Victory in the VIP Spades Gift-Giving Extravaganza!
The VIP Spades Weekly Gift-Giving Challenge is all about spreading joy and camaraderie within our gaming community. It's a chance to connect with your fellow players, engage in friendly competition, and win awesome rewards that will take your VIP Spades experience to the next level.
So, mark your calendars for September 18, 2023, and get ready to become a gift-giving legend in the world of VIP Spades . May the most generous and strategic players emerge victorious! Good luck, and may the cards (and gifts) be ever in your favor!
Note: Make sure to check the VIP Spades platform for any additional details or updates regarding the challenge.
If you have any questions, please do not hesitate to contact us at
[email protected]
. We'd love to hear your feedback!
Thank you for being part of the VIP Spades community!