Home » Lifetime Achievements
Unlock Your Potential with Lifetime Achievements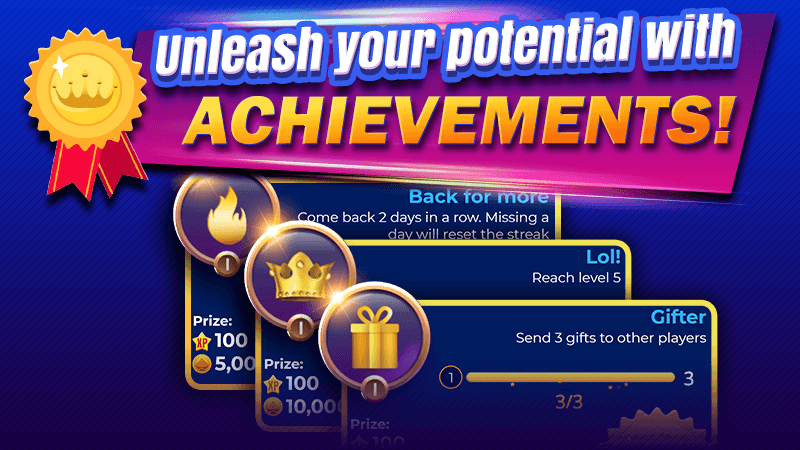 Are you ready to embark on a journey of personal growth, gaming success, and rewarding social interactions? Introducing our brand-new Lifetime Achievements feature that takes your experience to a whole new level!
All you have to do is log in to your account and go to your profile. There you can see a new tab, called Achievements. You can browse all available achievements and how far along you are on each. Unlocking the various achievements will bring more fun to your game.
1. What are Lifetime Achievements?
Lifetime Achievements are an exciting way to challenge yourself and accomplish significant milestones throughout your gaming journey. Unlike daily challenges that reset periodically, Lifetime Achievements are designed to reflect your progress and accomplishments over the long term.
They cover a wide range of categories that span your progress, gameplay, social interactions, and engagement within the community.
Getting started with Lifetime Achievements is as easy as playing your favorite games. There's no need to worry about tutorials or FAQs – simply dive into your gaming experience, and you'll start unlocking achievements as you progress.
2. Types of achievements
With Lifetime Achievements, you'll have the opportunity to explore various categories tailored to your interests and playstyle. The achievements you can unlock are summarized but not limited to the following categories:
Progress achievements. These can be unlocked through your gaming journey as you reach a new level, elevating your wallet or accumulating specific amounts of chips.
Gameplay triumphs. A few good examples of this category are reaching a certain number of played games, regardless of wins or losses, or getting a certain number of wins.
Social connections. Whenever you send gifts to other players or accumulate friends, you will build up social connection achievements.
Engagement milestones. You will also receive lifetime achievements if you play certain days in a row, get a bonus for playing every day, etc.
The best part? As you conquer each achievement, you'll receive exciting bonuses that amplify your experience. These bonuses are a testament to your dedication and will make your journey even more rewarding. There will be more lifetime achievements in the future, so keep checking.
3. What about existing users?
We know that many of our players have already made remarkable progress in their gaming journey. That's why our Lifetime Achievements system will recognize your past accomplishments. If you've already achieved wallet milestones, for example, you'll receive bonuses for those achievements as soon as you unlock the Lifetime Achievements feature.
So, start your journey today and unlock your first achievement! Don't miss out on this incredible opportunity to set and conquer milestones that genuinely matter. Let Lifetime Achievements add a new layer of excitement, motivation, and rewards to your gaming journey.
If you have any questions, please do not hesitate to contact us at
[email protected]
. We'd love to hear your feedback!
Thank you for being part of the VIP Spades community!