Spades Clubs Clash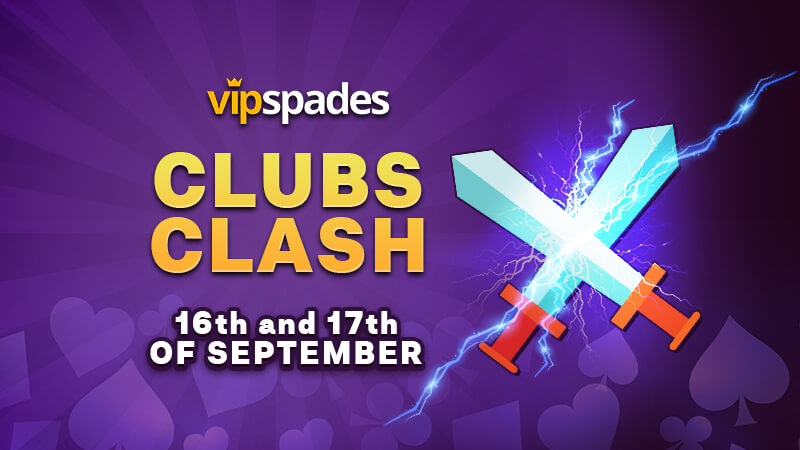 Join us for the Spades Clubs Clash, a thrilling two-day tournament where players from all the clubs come together to showcase their card-playing skills! This is an event you won't want to miss, filled with excitement, friendly competition, and fantastic rewards.
1. The Rules
The tournament is scheduled to take place on the 16th and 17th of September and it's absolutely FREE and open to all clubs.
Every club leader has the important task of selecting a maximum of five members to represent their club. Please note that these tournaments are invite-only, so only the selected members from each club can participate.
On both days, the tournament will span three hours, adhering to the standard tournament rules where players earn points for each win and lose points for each loss.
The same five members selected from each club must compete on both days. Replacement with other club members will not be possible. While it is not mandatory to compete in both tournaments, participating in only one will result in fewer tournament points.
2. The Tournament Points
How will the points be scored during the Spades Clubs Clash? The top ten players in each tournament will receive club tournament points, which will determine the winner. Here's the breakdown of points for different finishes:
1st Place Tournament Finish: A remarkable 10 tournament points await the victorious player.
2nd Place Tournament Finish: The runner-up will earn a valuable 9 tournament points.
3rd Place Tournament Finish: Players securing the third spot will be awarded 8 tournament points.
4th Place Tournament Finish: A respectable 7 tournament points will be given to the fourth-place finisher.
5th Place Tournament Finish: The fifth-place player will receive 6 tournament points.
6th Place Tournament Finish: Those who finish in sixth place will be granted 5 tournament points.
7th Place Tournament Finish: Seventh place will earn 4 tournament points.
8th Place Tournament Finish: Players finishing in eighth place will be awarded 3 tournament points.
9th Place Tournament Finish: The ninth-place finisher will receive 2 tournament points.
10th Place Tournament Finish: Finally, the player securing the tenth spot will earn 1 tournament point.
Ultimately, the club that accumulates the most club tournament points will be crowned the victor of the Spades Clubs Clash.
3. The Rewards
Now, let's talk rewards! The top three clubs will receive special recognition in the form of medal emojis, along with exciting prizes. Here's what's up for grabs:
1st Place: The winning club will be celebrated with a 1st-place medal emoji and each member will receive a grand prize of 200,000 chips and 60 gems and a custom gold frame.
2nd Place: The second-place club will sport a 2nd-place medal emoji, and each member will earn a substantial reward of 150,000 chips and 40 gems.
3rd Place: The club securing the third position will showcase a 3rd-place medal emoji, with each member receiving 90,000 chips and 20 gems.
Remember, the rewards are for every member of the winning club, making victory all the more satisfying!
So, club leaders, strategize and select your finest Spades players! Participants, prepare to give it your all in this thrilling event! The Clash is just around the corner, and the stakes have never been higher. Let the games begin!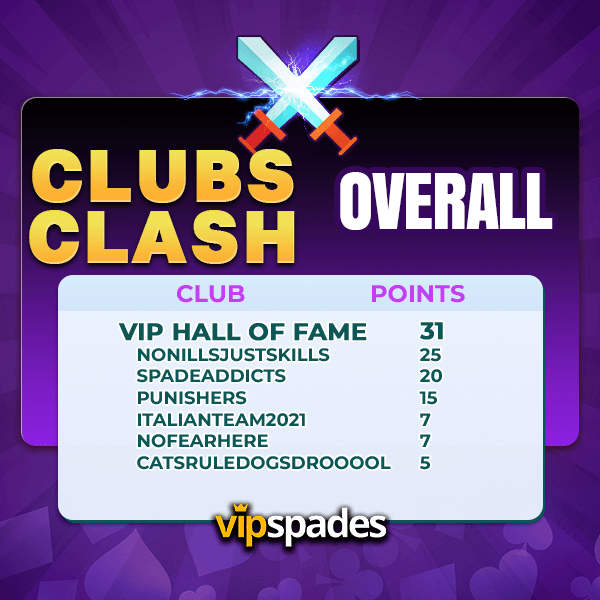 If you have any questions, please do not hesitate to contact us at
[email protected]
. We'd love to hear your feedback!
Thank you for being part of the VIP Spades community!