Home » VIP Spades v31 Changelog: Leagues and Bonuses!
VIP Spades v31 Changelog: Leagues and Bonuses!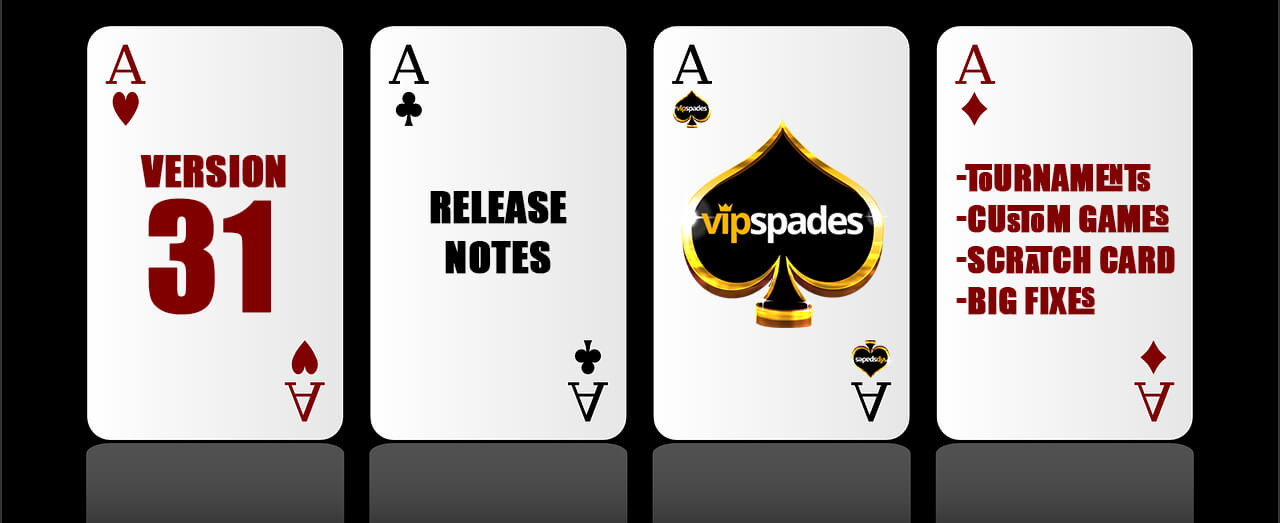 What's new?
New Tournaments – Different tournament every week with huge prizes. For a period of one week you can enter a fixed tournament session. Pay the bet once and play unlimited games for the duration of the tournament! With this, we're setting up the perfect start for larger spades league plays. VIP Spades will release new tournaments every week!
Custom games – The "Custom games" room is now available for everyone! You will have the ability to create the room you want, according to your own preferences! There will also be special VIP Only tournaments and spades leagues.
Scratch cards – We are introducing a new bonus feature – Scratch Cards. You will get one card daily after you've claimed your daily bonus. Each and every card can win you up to 20 000 additional chips per day;
Minor bug fixes and performance optimisations –  Based on your reports, we located a few annoying bugs regarding private browsing, refreshes and performance. All this is fixed with this version. VIP Spades will run faster and better across all devices.
VIP Spades team wishes you luck in your upcoming games of spades! If you have any questions or suggestions, please contact us at [email protected]!
[widget id="acym_subscriptionform_widget-2″]