Introducing Happy Hour: Double Your Chips, Double the Fun!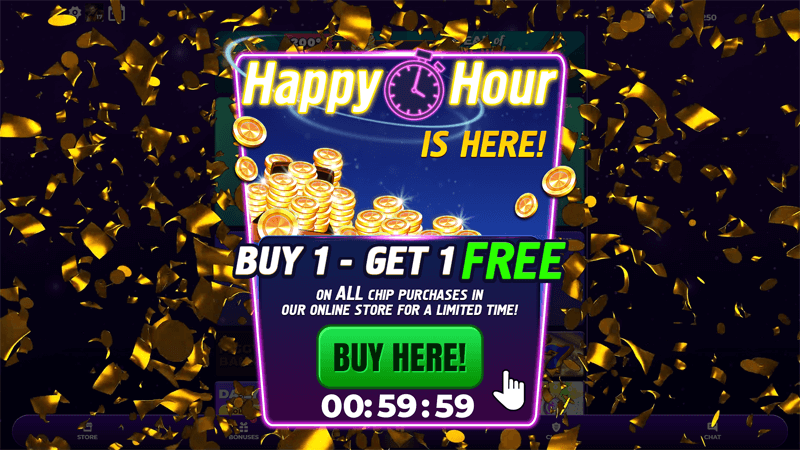 Starting this week, VIP Spades will be hosting a Happy Hour event once every week. During this special occasion, players will have the opportunity to double their chips when purchasing from our online store.
Yes, you read that right! Every chip you buy will be instantly doubled! Now you can experience twice the excitement and extend your gameplay like never before.
Keep your Push notifications on!
To ensure that you never miss out on Happy Hour, we highly recommend keeping your push notifications on. Happy Hour will be a surprise event every week and it will come up on different days at different times.
The VIP Spades app will send you a timely notification one hour before each Happy Hour begins, allowing you to prepare and make the most of this fantastic opportunity. Don't miss your chance to stock up on those extra chips and enhance your gaming experience!
Follow us on Social Media!
Social media is another place where we will send timely reminders that Happy Hours is near. So, follow our Facebook page and never miss the excitement!
The launch of Happy Hour at VIP Spades promises to bring unparalleled excitement to your card-playing experience. With the chance to double your chips during this weekly event, the possibilities are endless. Make sure to keep your push notifications on to receive timely reminders and get ready to embrace the thrill of Happy Hour.
For more questions about Happy Hour, visit our FAQ page!
♦ ♦ ♦ ️️ ♥ ♥ ♦ ️️ ♥ ♦ ♦ ♦ ♣ ♥ ♦ ♦ ♦ ♦ ♦ ♦ ♦ ♦ ♦ ♣ ️️ ♦ ♦ ♦ ♦ ♣ ♣ ♣
If you have any questions, please do not hesitate to contact us at
[email protected]
. We'd love to hear your feedback!
Thank you for being part of the VIP Spades community!