Play Spades with Friends in the 5-Day Challenge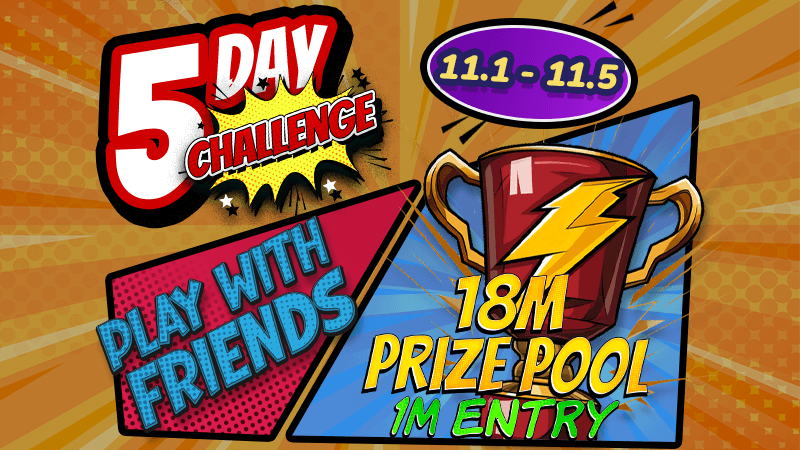 Greetings, Spades players!
We're introducing, on your favorite gaming platform, the 5-day challenge. What's that, you ask? The 5-Day Challenge is a new feature of the VIP Spades platform where you are required to play as many games as possible within a 5-day period. If you're ready for five days filled with adrenaline, this challenge is for you.
The Rules
Over a period of five days, from November 1st to November 5th, gather all your friends or opponents in the Spades Pairs "Play with Friends" lobby. The condition is to play as many games as you can with an entry fee of 1 million chips.
It doesn't matter if you win or lose; the important thing is to play as many games as possible. It also doesn't matter whether you are the host or a guest in the room.
What matters is the number of games played in the 1 million room.
This challenge is a dose of fun and entertainment. Unique moments and unforgettable experiences are guaranteed.
The Prizes
And when the 5-day challenge is over, here are the prizes for the top three players who have played the most games during the given period:

1st place – 10 million chips, and a personalized color of choice for text and username.
2nd place – 5 million chips.
3rd place – 3 million chips.

The winners will be announced within 7 days after the event's conclusion at our Facebook page.
Get ready for the most fun 5-day challenge with friends and rivals. Let's see who will finish at the top!
If you have any questions, please do not hesitate to contact us at
[email protected]
. We'd love to hear your feedback!
Thank you for being part of the VIP Spades community!